Overview
COSA members formed the Geriatric Oncology Group in 2007 to improve outcomes for older people affected by cancer. The Group brings together members from across Australia with this shared interest, a collectively strong knowledge, and a multidisciplinary perspective. The Group has expertise in evidence-based solutions in the delivery of cancer treatment and care that will make a difference in geriatric oncology outcomes.
The COSA Geriatric Oncology Group aims to improve outcomes for older adults affected by cancer through:
Education 
Promote and publish literature and reports to increase awareness of the need for specific approaches to treatment of cancer in older adults  
Host and attend workshops for Group members, and deliver presentations in national and international forums, to raise awareness of geriatric oncology from the Australian perspective  
Support for clinical practice
Mentorship in the support of clinical practice and the development of clinical services that improve the management of older patients with cancer
Provide leadership in the use of geriatric oncology assessment tools
Research
Develop, test and disseminate easy screening tools to enable referrals to multidisciplinary clinics and encourage integrated approaches between oncologists and geriatricians and the aged care sector
Facilitate collaborative research projects within the COSA membership
Advocacy
Seek support for the fostering of geriatric oncology training 
Thank you for visiting the COSA Geriatric Oncology Group page. While you're here, be sure to visit our Activities, Resources and Notice Board, for more information about the Group.
Group information
[Chair] Prof Meera Agar, University of Technology Sydney, NSW
[Co-Editor, GO eNews] Dr Polly Dufton, University of Melbourne / Austin Health, VIC
Dr Kim Edmunds, University of Queensland, QLD
Kimberley-Ann Kerr, Digital Health SA, Department for Health and Wellbeing, SA
[GOEER Chair] Dr Michael Krasovitsky, The Kinghorn Cancer Centre / UNSW Sydney, NSW
[SIOG National Representative] Dr Heather Lane, Sir Charles Gairdner Hospital, WA
[Co-Editor, GO eNews] Dr Wee-Kheng Soo, Eastern Health, VIC
Dr Christopher Steer, Border Medical Oncology, NSW
Elise Treleaven, Royal Brisbane and Women's Hospital, QLD
Prof Shalini Vinod, Liverpool Hospital/South Western Sydney Clinical School UNSW, NSW
[GO Community of Practice Co-Chair] Dr Paul Viray, La Trobe Regional Hospital/Alfred Health/Cabrini Health, VIC 
The Geriatric Oncology Group supports advocacy action and activities that improve outcomes for older adults with cancer and recognise the importance of tackling ageism in cancer care. Find out more and watch the recordings from our Ageism Forum
Whether you were able to attend or not, all past webinars are available to COSA members to watch.
The COSA Geriatric Oncology Group also led the Ageism in Cancer Care Forum:
Catch up on COSA Geriatric Oncology Group activities and news from the last few years. The GO eNews is only available for members, so you'll need to login to access.
GOEER is a subgroup of the Geriatric Oncology Group aimed at expanding and deepening the field of geriatric oncology amongst trainees and early career clinicians. 
The Geriatric Oncology Guideline Development Working Group is developing guidelines/practice points to help improve the clinical management of older adults with cancer in Australia.
What's the latest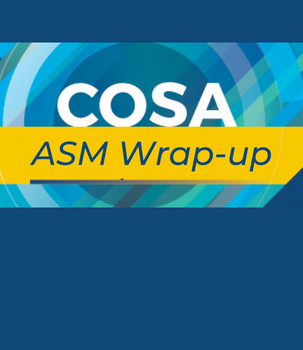 eNews
Group Chair

Group Chair
Meera Agar
Geriatric Oncology Group Chair