The Group will work towards developing valuable resources to support and promote high quality research, education and advocacy in exercise and cancer. 
Exercise in Cancer Care Position Statement
The COSA position statement on "Exercise in Cancer Care" officially launched at the Peter MacCallum Cancer Centre on the 7 May 2018 has also been highlighted in an article published in the Medical Journal of Australia and an MJA podcast. 
It is the first position statement worldwide to call for exercise to be an essential component of cancer treatment and has been endorsed by the Medical Oncology Group of Australia, Cancer Council Australia, Exercise and Sports Science Australia, and the Australian Physiotherapy Association.  It is also supported by over 20 influential cancer and health organisations.
The evidence to support the recommendation that every person diagnosed with cancer should be prescribed exercise alongside their cancer treatments is convincing.  The COSA position statement calls for:
Exercise to be embedded as part of standard practice in cancer care and to be viewed as an adjunct therapy that helps counteract the adverse effects of cancer and its treatment
All members of the multidisciplinary cancer team to promote physical activity and recommend people with cancer adhere to exercise guidelines
Best practice cancer care to include referral to an accredited exercise physiologist and/or physiotherapist with experience in cancer care 
COSA would like to sincerely thank the working group who developed the position statement and everyone who provided feedback during the consultation.  We hope you will find this position statement useful and encourage you to share it with all your colleagues.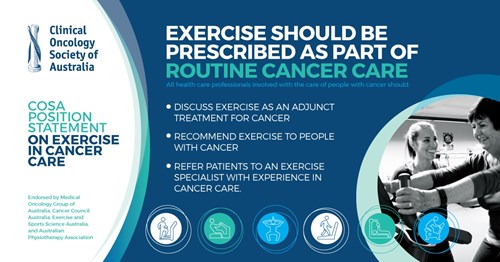 Download a copy of this infographic!

Prostate Cancer PD - a professional development course for exercise specialists
TEDx Talk: A new contender in the fight against cancer - Prue Cormie
Catalyst - Exercise and Cancer
Life Matters - Combating prostate cancer's side effects with exercise