The Group plans to have a robust agenda of research, education and advocacy activities.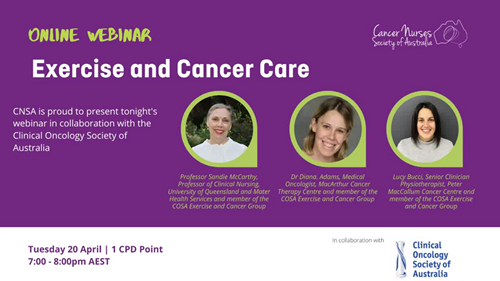 Webinar - recording here (member content)
The COSA Exercise and Cancer Group recently collaborated with CNSA to present this webinar in April 2021 on "Exercise in Cancer Care".
Speakers
Dr Diana Adams
Lucy Bucci
Professor Sandie McCarthy
About this session
The recently updated COSA Position Statement on Exercise in Cancer Care provides guidance to all members of the multidisciplinary cancer team regarding the role of exercise in the care of people with cancer. Learning objectives of this session include:
Overview of the updated Exercise and Cancer Position Statement including key changes
Describe the role of exercise in cancer care
How to access exercise based supports and resources
Highlight the important role medical, nursing and allied health play in the exercise and cancer continuum
Describe key features of an individualised exercise program
The webinar targets all nursing, allied health and medical professionals working in cancer care, with the panel of expert clinicians working across those disciplines.
COSA 2017 ASM
What's New in Exercise and Cancer: COSA 2017 ASM review - Oncology News
COSA 2016 ASM
Video recordings from the Exercise & Breast Cancer session are available here (member-only content)
Exercise in the Management of Arthralgia – Melinda Irwin
Exercise for the management of upper-body morbidity - Sandi Hayes
Exercise for the management of fatigue – Carolina Sandler
Exercise for the management of distress and cognitive impairment – Haryana Dhillon