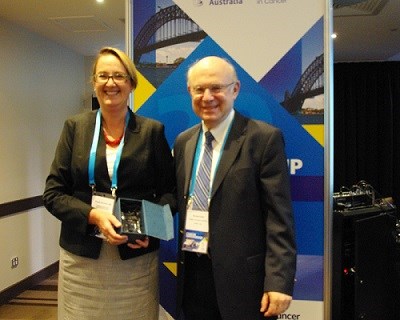 L-R: Bogda Koczwara AM and Prof. Richard Cohn
COSA and the Flinders Centre for Innovation in Cancer as partners on the 2018 Cancer Survivorship Conference are pleased to announce Prof. Richard Cohn as the 2018 recipient of the Ashleigh Moore Award.
About the award
In memory of Ashleigh Moore, the Flinders Centre for Innovation in Cancer established the Ashleigh Moore Award which recognises an individual or organisation in Australia who has made an outstanding contribution to the care of cancer survivors through contribution to clinical practice, research, policy, and/or advocacy affecting cancer survivors.
The Award is presented biennially at the Cancer Survivorship Conference where the recipient delivers the Ashleigh Moore Oration.
Award reicipents
| | |
| --- | --- |
| 2018 | Richard Cohn |
| 2017 | |
| 2015 | Sally Crossing AM |

About Ashleigh Moore OAM
 

Many people get cancer, but few have raised a voice for people affected by cancer in such diverse, effective and innovative ways as Ashleigh Moore OAM.

 

Sadly, Ashleigh passed away in February 2014, aged 56 years, after a battle with stage 4 Head and Neck cancer in 2005, then advanced stage 3 lung cancer from 2010. What Ashleigh chose to make from these harrowing experiences is what truly sets him apart. He became an inspiring pioneer in cancer advocacy, blazing a trail at the state, national and international level.

Ashleigh was an acclaimed speaker representing Australian cancer survivors at international events including the inaugural LIVESTRONG Global Cancer Summit (Ireland 2009), the Go Public Global Cancer Leadership Forum (Canada, 2009), and the Australian Lung Cancer Conference (2012). On the international stage he vowed "I want the next generation to never have to face the brutality, fear and uncertainty I suffered through the course of my cancer treatment. I want to make a difference".

Asia Pacific Journal of Clinical Oncology
Members have free online access.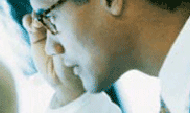 Cancer Forum
Read the latest issue online at: