Author

January 2023

Category

eNews

DATE

25 Jan 2023
Australia New Zealand Gynaecological Oncology Group
ANZGOG 2023 Annual Scientific Meeting

ANZGOG's 2023 Annual Scientific Meeting will be held 22-24 March 2023 at the Hilton Hotel, Brisbane Queensland. "Improving the lived experience of patients with gynaecological cancers" is the theme for the meeting.
We will review the key advances over the last 5-10 years in gynaecological cancers that have defined new standards of care, improved survival and quality of life. Major challenges remain in optimising patient care and meeting the needs of all patients, including culturally diverse and marginalised populations. We can and will rise to the challenge.
We are pleased to announce our distinguished international speakers: Prof Iain McNeish, Prof Rene Pareja and Dr Ina Jürgenliemk-Schulz.

ANZGOG's Annual Scientific Meeting brings together national and international experts in gynaecological medicine, radiation and surgical oncology, pathology, basic scientists, translational and quality of life researchers, study coordinators and nurses, as well as our partners in the pharmaceutical industry.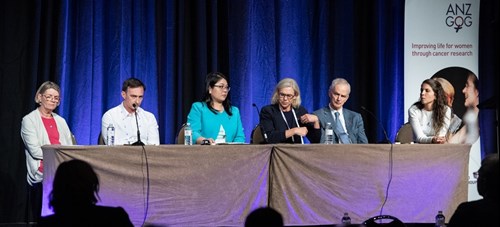 The meeting enables attendees to learn about the latest developments in gynaecological cancer and provides education and capacity-building opportunities amongst members and industry personnel. The Pure Science Symposium is the forum for scientists to learn about the cutting-edge research and developments in the pre-clinical and translational space.
Earlybird closes on Wednesday, 1 February 2023, so register now to secure your space. For more information, please visit www.anzgogasm.org.au
We look forward to seeing you in Brisbane for a rich and stimulating conference.
Powering research development
ANZGOG continues to expand its trials in operation, in development and in the pipeline. We are fortunate to have 1200 dedicated members working locally and globally to improve life for women affected by gynaecological cancer through research.
We were delighted to be able to open three studies to recruitment this year – HyNOVA, ADELE and PARAGON-II. On the other end of the trial cycle, seven studies closed to recruitment after meeting significant recruitment milestones:
The international AtTEnd trial, led by ANZGOG in ANZ, reached its recruitment target of 550 participants, including 48 participants from ANZ.
TIPS, an ovarian cancer surgical feasibility study, reached 100% recruitment after successfully recruiting its target of 47 patients.
ICON9, an international phase III randomised study, recruited a total of 111 patients (ANZ target was 110).
SOLACE2, an ovarian cancer study part of the OASIS Initiative, also reached 100% recruitment, recruiting 114 women across Australia.
We thank all participating women and their families, participating hospitals and collaborating trial teams for their long-term commitment to the studies.
ANZGOG trial update
ANZGOG clinical trials open to recruitment:
2 ovarian cancer trials: ECHO and HyNOVA in collaboration with the NHRMC Clinical trials Centre, at the University of Sydney
2 endometrial cancer trials: ENDO-3 in collaboration with Queensland Centre for Gynaecological Cancer and ADELE in collaboration with the NHRMC Clinical trials Centre, at the University of Sydney
1 ovarian and endometrial cancer trial: PARAGON II in collaboration with NHMRC Clinical Trials Centre, at the University of Sydney
 ANZGOG clinical trials in start-up:
1 ovarian and endometrial cancer trial: EPOCH
1 cervical cancer trial: ITTACc
1 Quality of Live/End of life study: PEACE
For more information on ANZGOG's trials, please visit our website.