Category

eNews

DATE

21 Dec 2022
Australasian Leukaemia & Lymphoma Group
December 2022
Celebrating 50 Years of ALLG in 2023
The ALLG will turn 50 in 2023. To keep informed about ALLG's 50th Year initiatives for the milestone year that marks five decades of progress in blood cancer treatments through ALLG clinical trials in Australasia, visit our website throughout 2023 and follow ALLG on Twitter, Linkedin, and Facebook. 
Established in 1973, the ALLG is Australia's and New Zealand's (ANZ) only not-for-profit collaborative blood cancer clinical trial research group and the oldest group of its kind in ANZ. Members include more than 1,000 physicians and haematologists, nurses, scientists and professional support staff from across ANZ. If you are not currently an ALLG Member, and would like to join, contact ALLG via info@allg.org.au.
First Australian site opened for AMLM26 INTERCEPT trial
The ALLG has opened the first hospital site in Australia for a clinical trial that is a world first in acute myeloid leukaemia (AML) trials. The study aims to radically change the way AML therapy is determined.
The AMLM26 INTERCEPT (Investigating Novel Therapy to Target Early Relapse and Clonal Evolution as Pre-emptive Therapy in AML) trial is designed to introduce a range of new medicines and new technologies to measure residual disease, which will help in the early detection of AML relapse.
Alfred Hospital, Melbourne, is the first of 16 hospitals in Australia to open for the trial. Further sites will open over the coming months across Australia as well as New Zealand. Read more here.  
ALLG Scientific Meeting  
The Australasian Leukaemia and Lymphoma Group (ALLG) Scientific Meetings provide ALLG members with the opportunity to obtain valuable insights and exposure to the latest developments in clinical research, and for members to seek out peer review for new research ideas to advance clinical trials in haematological malignancies.
ALLG's October Scientific Meeting's international guest speakers included:
Dr Vikas Gupta, MD, Site Group Lead Leukemia Program, Princess Margaret Cancer Centre,
Toronto, Canada. He presented 'Evolving therapeutic landscape for Myelofibrosis'.
Dr Salvatore (Sam) Fiorenza, Haematologist and post-doctoral scientist, Turtle Lab, Fred Hutchinson Cancer Research Center, Seattle, USA. He presented 'Targeting the Membrane-Proximal Domain of CD33 for Optimized CAR-T Cell Therapy of Acute Myeloid Leukemia'.
Keynote speaker, Cancer Australia Chief Executive, Professor Dorothy Keefe presented 'Australian Cancer Plan development, progress and next steps'. The Plan is a key national initiative that ALLG has been strongly engaged in. Prof Keef said, "The ALLG's research work is vital to achieving the cancer plan and overall goals, through your work on the Blood Cancer Taskforce and Optimal Care Pathways, and we appreciate the ALLG's continuous support to cancer and clinical trials in Australia."
ALLG's new Scientific Advisory Committee Chair appointment
The newly elected Chair of ALLG's Scientific Advisory Committee, Professor Judith Trotman has been an ALLG Member for 22-years. Prof Trotman is Head of Haematology at Concord Repatriation General Hospital, where she was the Founding Director of the Clinical Research Unit 2005-2019. Prof Trotman provides global leadership in charting the role of PET scanning in lymphoma. In the past 15 years, Professor Trotman has led many ALLG clinical trials and international trial partnerships.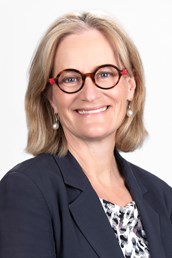 ALLG 2022 Annual Review
The ALLG recruited patients to more game-changing trials than ever before in the last financial year, on target and often ahead of schedule. Learn more in the ALLG 2022 Annual Review 'Global Leaders, Global Impact: Delivering beyond expectations'; available to download now at www.allg.org.au
ALLG 'Early Career Clinician Researcher' program applications now open
Today the ALLG is supporting more of the blood cancer research sector's future leaders with mentoring across the group's clinical trial endeavours both locally and with international partners. A 2-year 'Early Career Clinician Researcher' program has opened for applications.
This ALLG program is for trainees, registrars and fellows interested in cancer and haematology research. The mentee position will interact with the medical leadership of the ALLG that oversees ALLG's trial activities. View the flyer here for more details and how to apply.
Applications Close: Monday 16 January 2022.