Category

Breaking News

DATE

2 Nov 2023
Australian Cancer Plan Launch at 2023 COSA ASM
Australian Cancer Plan: Delivering world-class cancer outcomes and experiences for all
The Australian Government has released the landmark Australian Cancer Plan, which aims to improve prevention, screening, treatment and management of all cancers for all people in Australia regardless of their background or where they live.
The Plan covers all cancer types, across the whole cancer journey, from prevention and early detection to recovery, treatment, survivorship and end of life care.
Achieving equity for First Nations people is an urgent priority for the Australian Cancer Plan. First Nations people are 14% more likely to be diagnosed with cancer and 45% more likely to die from cancer than non-Indigenous people.
Implementation of the Plan is a shared responsibility across the entire sector and important partnerships have already commenced.
If you wish to contribute to the Australian Cancer Plan Implementation Plan, please contact [email protected]
To view the Australian Cancer Plan visit www.australiancancerplan.gov.au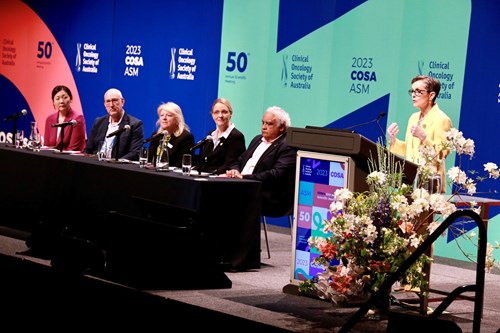 The Australian Cancer Plan panel at 2023 COSA ASM, l-r: Lillian Leigh, consumer; Paul Villanti, Executive Director, Movember; Shelley Dolan, CEO, The Royal Hospital Melbourne; Tanya Buchanan, CEO, Cancer Council Australia; Tom Calma AO, National Coordinator, Tackling Indigenous Smoking; Dorothy Keefe, CEO, Cancer Australia.