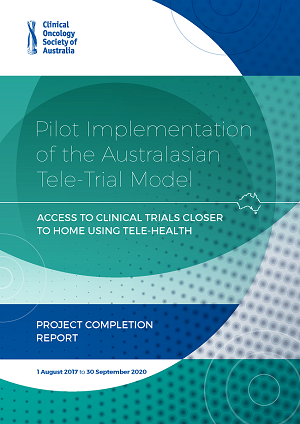 COSA is pleased to release this
report
on the completion of the project to pilot the implementation of the Australasian Tele-Trial Model. 
The aim of this three-year project was to facilitate the adoption of the Model nationally through engagement with government, regulatory bodies, hospitals, and insurers to drive regulatory reform and adopt the Tele-Trial Model as part of standard practice.
As you will see from this report, the project was highly successful and delivered on all accounts. 
The key achievements of the project were:
Establishment of tele-trial clusters within five project funded primary sites
Key stakeholder engagement including State and Territory Departments of Health, and trial sponsors from industry and investigator groups
Tele-trial Model implemented and tele-trials opened within all project clusters
Tele-trial Supervision Plan template developed and implemented to ensure subject safety and data integrity protected within tele-trial clusters, and tele-trial resources and information developed to support implementation
Regulatory and governance issues identified and implemented including tele-trial SOPs and tele-trial subcontracts
Seven tele-trials were opened in project funded clusters and two completed recruitment during the pilot
Four tele-trials were also opened outside project funded clusters nationally and three were closed to recruitment during the pilot 
135 patients were recruited to tele-trials in project funded clusters
COSA thanks the funding consortium and all committee members. We especially thank the project co-chairs, Professors Sabe Sabesan and John Zalcberg for their leadership and guidance, and Project Manager Chantal Gebbie.