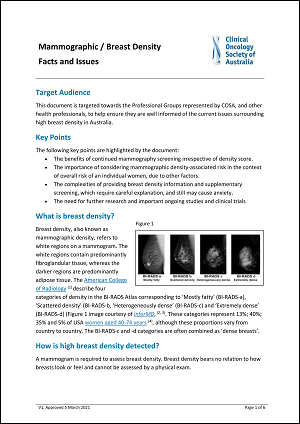 COSA is pleased to release the Mammographic / Breast Density – Facts and Issues paper.
As there are differing views on breast density, the aim of this document is to provide a balanced and factual resource for COSA members and other health professionals.
 
Despite the increased risk of breast cancer and breast cancer masking associated with mammographic density (MD), there is poor overall awareness in the community. It is estimated that women with extremely dense breasts have a four‐to‐six fold increased risk of developing breast cancer compared to women with very low density. 
 
Currently in Australia women are not informed of their MD after screening through BreastScreen, except in Western Australia, where a decade of providing women information has recently been favourably reviewed. For many Australian women the only way they can be informed of their MD is from a private screening. However in other jurisdictions, such as most (now 36) states in the USA, and British Columbia in Canada, reporting on MD is mandatory.
 
The multidisciplinary working group was led by Professor Rik Thompson, Dr Susan Fraser and Dr Haitham Tuffafa, who prepared this document to advocate for honest information flow, and that women be informed of their MD in a knowledgeable way.