COSA applauds and supports any commitment from the government to fund and improve cancer services for Australians with cancer.
COSA welcomes the federal Opposition's $2.3 billion commitment to reduce cancer inequities through strengthening Medicare and the public hospital system and fast-tracking drug subsidies, and any commitment to cancer care from the current Coalition.
Following are COSA's recommended priorities for the next government to action.
Make clinical trials activity a performance indicator in Government appraisal of excellence and quality in cancer care delivery by cancer health facilities
Ensure patients being treated on clinical trials can claim for any standard treatment costs incurred whilst on the trial 
Agree and implement standards for informed financial consent for cancer treatment
Ensure the implementation of the MBS review recommendations does not create any payment gaps
The elimination of out-of-pocket expenses for cancer patients
Lead a federal response to inequitable patient travel and accommodation schemes
Ensure the proposed change to the telehealth item number (ie, removal of item number 112 from the MBS) does NOT proceed
Coordinated care for all cancer patients
Funding for dedicated exercise professionals in all major cancer centres
Download further detailed information (pdf)

Asia Pacific Journal of Clinical Oncology
Members have free online access.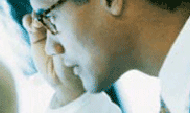 Cancer Forum
Read the latest issue online at: