It's a great honour to have been nominated for and to receive the TOM REEVE AWARD.
Firstly I'd like to acknowledge previous recipients of this Award, all of whom I've had the great privilege of working with in some way.  Ian Frazer, David Ball, Phyllis Butow, John Forbes, Patsy Yates, Lester Peters, Martin Tattersall, Alan Coates and of course Tom himself.
An award like this means so much, being acknowledged by your peers, people I respect and admire – thank you COSA, thank you everyone – I'm extremely grateful.
One of the first people I thought to contact after hearing of the Award, was Tom himself.
I'd known Tom over the years, but the Great Dividing Range had separated us in my early career.  So my memory of working with Tom was of being approached by an affable, wise, slightly older statesman to join yet another committee.  But Tom did so in a way that "NO" just simply wasn't an answer; "join the Steering Committee for the colorectal guidelines" – sure Tom.  "Write an article for Cancer Forum" – sure Tom!
He was a man who could reflect on a lifetime of working with Governments, with clinicians and patients for the common good.  Tom seemed delighted at my receiving the Award, and on reflecting on the changes he'd observed over the years, he made the point that patients more than ever before, are now, to use his words "front and centre".
It's a point I couldn't agree with more strongly.  As I've recently met with politicians or officials within the Department of Health to discuss health-related issues, I've become more and more aware of the role of the consumer, the call of the patient…perhaps expressed more succinctly, the poet in me might muse, "of the deafening echo's from silent voices" – but I'll return to this theme a little later. 
Of course, I know how important the voice of the consumer is from personal experience.  My wife's been a patient three times – a cancer survivor and I dare not disregard what she has to say …she tells me that often… although I must say, I've always welcomed her wise and sensible point of view and am very pleased that Lynette is here to share this event with me this evening
But to return to my theme, I hope that our consumer community will achieve their real strength in unity and in doing so, facilitate their potential role in engaging and leading a much more detailed and sophisticated discussion about the future of cancer care in the modern era, particularly with respect to the research and quality agenda.
Whilst clinical research is critically important, it is fundamentally a process which allows all of us, whether consumers, scientists or clinicians, to ask "How can we do it better?"  I know it sounds easy, but it's actually quite difficult.  I still recall arriving in Toronto to complete my clinical training.  It was the mid 80's – the decade that brought us the first mobile phone, the first PC, global warming, the sinking of the Rainbow Warrior, the shooting  of John Lennon, Halley's comet …and a time I could grow more hair on my head, than my face…
I'd just finished my PhD, moved to Toronto with Lynette and our 2 kids (aged 4 and 2 years) - and thought that laboratory research was the future of medicine – the ants pants of cancer research.  Shortly after my arrival, I was talking to the head of research at the Princess Margaret Hospital. He was a very eminent, and highly respected stem cell scientist, and when I proudly proclaimed this epiphany - a future of test tubes, genetically inbred mice, of DNA and RNA solving the problems of health care; he looked at me deliberately and said v-e-r-y slowly "…that's because you don't understand what clinical research is all about …"   
So I began my journey into this mysterious universe of clinical trials – slowly understanding the underlying principle of what we were trying to achieve – simply stated "how do we do it better?"  In working to this objective, I started to ask, "why aren't consumers helping to drive this agenda?"  Not so much the scientific nitty gritty, but the fundamental principles…
How much of taxpayers funds should be spent on research
How much support should be allocated to clinical and translational research, compared to basic research
what are the key research priorities
How much focus should there be on improving quality of care
These are but some, of the many questions that we all struggle with and yet a debate in which too many of our consumers and consumer organizations are strangely silent. I believe it's critical that patients and consumers not only get involved in this conversation, but actually lead it.  Through greater engagement of the consumer voice, COSA is the ideally placed organization to facilitate these discussions - enhancing interactions with policy makers as the peak professional body to a role in auspicing the consumer groups which collectively and separately help lead the agenda.
I recall one of my earliest experiences with the power of the consumer movement was during the time I was Chair of the Australasian Gastrointestinal Trials Group (AGITG).  The AGITG is a co-operative trials group that has had a long and proud history of listening to and involving consumers.
We'd just completed the trial of imatinib in patients with metastatic GIST.  The drug was approved by the TGA and submitted to the PBAC for reimbursement.  It was rejected twice and on the third occasion it was deferred, so that without PBAC approval, only the wealthy would be able to afford the $45,000 annual cost to receive this drug.  As a clinical community we were outraged! We'd seen how valuable this drug had been for patients who would otherwise have died within months. 
One of the first patients that we treated was so sick that he actually started imatinib whilst in ICU, only to walk out of hospital some weeks later.  Given such an impact, oncologists were understandably quite emotional about getting access to this drug. But now that it had essentially been rejected by the PBAC, we didn't know where to turn, or how to express our frustration. 
At that time, we employed someone at the AGITG who had been active in the AIDS community and with his input, we organised a bus to take a group of patients from Sydney to Canberra. We planned to have a picnic on the Parliament House grounds to protest the PBAC decision.  As the date got closer, anticipation and anxiety – mainly mine, grew - many patients had volunteered to join us on this protest –  and the bus was full. 
But I was starting to get very uncomfortable about this fateful rendez-vous with "A Current Affair or Sixty Minutes".  This was not something we'd ever done before.   I spoke to our organiser and said, "I'm worried about this.  What if someone gets sick along the way?"
So he organised for a nurse to join the bus - in case anyone became ill en-route.  But even so I was getting more and more nervous. 
Two days beforehand, we cancelled the trip.
We just didn't feel we had enough experience to take this on. But, we didn't give in and instead, through our consumer voice, organised a national petition campaign.  Within two weeks, we had 30,000 signed petitions – that was back in 2001!! – And remember, these were the days before Facebook, or Twitter or Snapchat!  I handed these 30,000 submissions to the consumer representative on the PBAC a few days later.  Several weeks later, Department of Health representatives phoned the drug company and invited them back to the table to talk about their PBAC submission.  The people had spoken and rest is history.
More recently I have been working with an organization called the Cancer Drugs Alliance (CDA) to improve the access of Australian cancer patients to novel drug therapies.  As many of you will be aware, access to such medicines in Australia is often years behind other developed countries.  Through this alliance we've seen what's been possible in the UK through the influence of consumers.  British consumers demanded better access to new cancer treatments, recognizing that whilst some drugs will only result in marginal benefits, others will result in dramatic impacts on the lives of patients.  These same consumers fought for and helped create the UK "Cancer Drug Fund". 
In Australia, we're nowhere near as far along, in our implementation of a solution to this terrible problem of inequity to treatment, but if we want to fix the current problems, then neither clinicians nor industry can do this on their own.  Fortunately the Cancer Drugs Alliance does involve consumers – we're a tripartite organization, bringing strength from each sector, and hopefully we'll eventually see a Government that understands and addresses the need for faster and more equitable access to new treatments for our patients– patients who don't have time to wait, whilst committees deliberate about the dollars. 
Both the consumer and the clinical members on our Board are working closely with the pharmaceutical industry, with the understanding that if we want new drugs, if we want better drugs, if we want drugs that fit most appropriately into existing treatment algorithms, then we must work together, and ultimately with Government, to achieve these objectives. As some of you will know, we were very pleased to hear of the just-announced Senate Inquiry into Access to Cancer Drugs – a very important opportunity for all of us.
My time at Peter Mac provided a fantastic opportunity to pursue a research agenda although admittedly, my first attempt at applying for a job there many years earlier, had been unsuccessful,  During that memorable interview, I was very seriously scolded for not having any experience in clinical research – not that I'm bitter of course!  It was a fair criticism, a viewpoint illustrating the modus operandi of an institution devoted to improving cancer care for patients, throughout a proud 50 year history of clinical research. 
For me, I finally got it.  Together, clinicians, scientists, and consumers – we must do better.  We will do better.  Our patients deserve nothing less – "only the best" as they say.
After leaving Peter Mac earlier this year after a 17 year stint, I've since joined the School of Public Health and Preventive Medicine at Monash University.  There my work relates to supporting clinical quality registries that measure variations in cancer outcomes across our community. 
It's been an exciting and rewarding experience to be involved with the many committees and organizations devoted to these causes.  Ironically I can still remember returning from overseas in the late 80's and speaking to the medical superintendent as they were called at the time "are there any committee I can join", I asked, "I don't seem to be a member of any!" Famous last words.  Since then, my big problem has always been learning to say NO – but when I can see the potential to make things better…well, it's an addiction...
Although it often involves the occasional evening email, or weekend paper work, it's an experience I highly recommend.  So when the likes of Tom Reeve – or organizations whose causes you support, come calling, invite you to join a committee – please give it some thought.  There's always room at the table for a fresh pair of eyes and new ideas.
 As for the Clinical Quality Registries, as the costs of health care continue to escalate, we desperately need evidence that the services and treatments we recommend as clinicians actually work, work beyond the experience of the highly selected group of patients enrolled onto pivotal registration studies.  As these costs inexorably grow, the day is fast approaching when Governments and insurance companies will want to pay for outcomes, not consumables or services.
Clinical quality registries not only measure outcomes but are one of the most powerful tools we have for improving the quality of patient care – and hence my interest. They interface with clinical trials and help form the self-improving health system.
Funding such new programs in the current fiscal environment is always going to be a challenge and as always in health, and perhaps not surprisingly, if not appropriately, there are competing agendas. Whether the creation of a $20 billion Medical Research Future Fund – the MRFF will assist in resolving this tension remains to be seen.  But as you might expect, everyone's angling for a piece of the MRFF pie.  Some want more for fundamental research, others more for clinical research. 
But I would argue, we need consumers to help lead the way through this dilemma.
What do the patients' of today and tomorrow want?  What is their perspective on how this pie is to be divided?  We need leading organizations like COSA to continue to engage with consumers and help them drive the agenda – the "silent voice" no more, the "echo's ever more piercing".
So in closing Tom, we hear the message -  patients are front and centre, caring for our patients is what drives us to achieve more, but it's our patients and their communities who we need help from – we need them to take the lead – NOW, not tomorrow,  because together we can create the future we want for our children  - a future they deserve and expect.
I'm deeply honoured to be the recipient of the Tom Reeve Award for 2014 but couldn't have achieved anything without many friends and mentors, such as Michael Friedlander and David Goldstein, in addition to many members of the team within the AGITG, colleagues such as Danny Rischin and Guy Toner, and many other friends at Peter Mac, and of course my secretary for over 20 years, known to everyone as "Emilia".
Lastly and most importantly, to my family, I wish to thank Lynette and our two children Nicole and David.  They have stood beside me, at times in front of me, but always behind me to make all of this possible.
Thank you.

Asia Pacific Journal of Clinical Oncology
Members have free online access.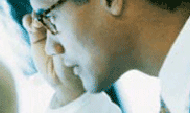 Cancer Forum
Read the latest issue online at: