Category

eNews

DATE

29 Jun 2022
Breast Cancer Trials
June 2022
43rd Annual Scientific Meeting
The Breast Cancer Trials 43rd Annual Scientific Meeting (ASM) will be held from 27-29 July 2022 at The Langham, Melbourne, and is the premier event for breast cancer clinical trials research.
The theme of the ASM is breast cancer in young women, with a number of key presentations on this important topic.
Each year, the event attracts leading breast cancer experts from a range of disciplines. The 2022 international guest speakers are:
Charlotte Coles – Professor of Breast Cancer Clinical Oncology and Deputy Head of the Department of Oncology, University of Cambridge
Laura Esserman – Professor of Surgery and Radiology at the University of California, San Francisco, and Director of the UCSF Breast Cancer Clinic
Hiroji Iwata – Vice Director and Chief of Breast Oncology, Aichi Cancer Centre Hospital, Clinical Professor at Nagoya University Medical School, Japan
Ann Partridge – Professor of Medicine, Harvard Medical School & Vice Chair of Medical Oncology, Dana-Faber Cancer Institute
Hope Rugo – Professor of Medicine in the Division of Hematology and Oncology at the University of California, San Francisco
The program includes two days of Scientific Sessions covering: prevention/screening/diagnosis; early breast cancer; advanced disease; and translational research. For those who are unable to attend the ASM in person, the Scientific Sessions will be available to watch online at a reduced registration rate.
The Trials Coordination Forum is a yearly day long workshop for staff at participating institutions and trial coordinators, which will provide an update on developments and changes within the Breast Cancer Trials (BCT) research program, a recap on important trial results, insights into health economics and is a valuable networking opportunity for those involved in clinical trials management.
For the first time, the ASM program includes oral presentations selected from submitted abstracts. Abstracts describing work relating to clinical trials in progress or completed, projects that may inform future clinical trials and projects identifying issues for which clinical trials may be beneficial are all welcome. Abstracts from trainees, Fellows and Junior faculty from all breast cancer disciplines are particularly welcome. Some abstracts will be offered oral presentations and others offered posters to be displayed during the ASM. Prizes will be awarded for the best abstracts. The deadline for abstract submission is 6 July 2022.
Also in a first for the ASM is a Trainee and Early Career Day for trainees in medical oncology, radiation oncology and surgical oncology, to be held on Saturday 30 July. This is a free multi-disciplinary session, with both presentations and panel discussions from leading Australian and international breast cancer experts. The day will focus on the management of early breast cancer, with updates on the latest in evidenced based research.
To find out more about BCT's 43rd ASM or to register, visit www.bct2022.org.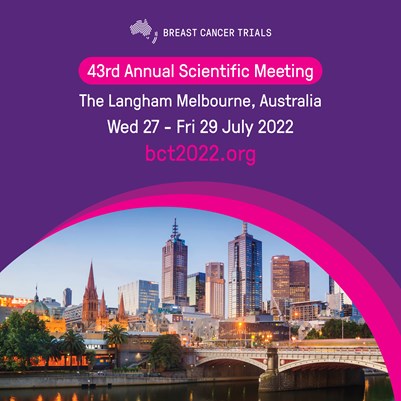 Clinical Fellowship Opportunities
BCT started the Clinical Fellowship Program in 2021, with the aim of developing new research ideas and supporting the next generation of researchers.
The Program is aimed at early career researchers, who have a high-level interest in clinical research and qualifications in the disciplines of medical oncology, pathology, psychology and other supportive care specialties, radiation oncology, radiology or surgery.
Fellows work on projects that are directly relevant to BCT that potentially involve:
Research areas of future trials including background and pilot work
Work on existing or future BCT clinical trials
Further analysis of data from existing trials
Participation in trial meetings to drive the research as directed by our strategy
Applications for the 2023 Fellowship Program will open shortly. These positions will provide an exciting opportunity for an early career researcher to be funded in a part-time capacity (1-2 days per week) for a one-year term with a second-year extension possible. Applications will close 15 August and successful applicants will be notified in early September 2022. For a confidential conversation about the Fellowships, please contact the BCT Director of Research, Professor Bruce Mann, at DoR@bctrials.org.au. More information can be obtained by emailing positions@bctrials.org.au.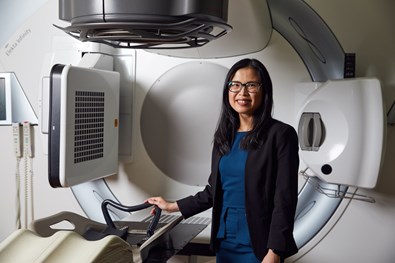 Dr Janice Yeh was awarded a Clinical Fellowship in 2021
Online Q&A: Breast Cancer in Young Women
Our next online Q&A event will discuss the important topic of 'breast cancer in young women' and will be broadcast live from Federation Square, Melbourne, from 5:30-7pm (AEST) on Wednesday 27 July 2022.
Moderated by TV presenter Annabel Crabb, the panel will include Professor Ann Partridge, Associate Professor Nicholas Wilcken, Associate Professor Lesley Stafford, Consumer Advisory Panel Chair Ms Leslie Gilham and clinical trial participant Ms Laura McCambridge. For more information or to register to watch the event online, visit www.breastcancertrials.org.au.