The Marryalyan is the two-snake emblem of the Warramirri people who occupied a large group of islands in the Arafura Sea off the northern coast of Australia, now known as the Wessel Islands. Most Warramirri people now live on Elcho Island.
The Marryalyan was one of their major gods, possessed of infinite inventiveness. He lived under the sea and through the power of his breathing boiled up the vapour that makes the clouds, the weather and the storms. He invented living creatures, starting with minute particles in the sea, pinching them together to make different forms until he had filled the ocean. He encouraged some creatures to emerge from the sea and take up life on land, and from them he developed all the different types of living beings. He developed man, giving him special powers including those of reasoning and control over his own destiny, as well as an afterlife.
The two-snake emblem arises out of the story that as time passed the spirits of the ancestors, concerned at what was going on in the world of the living, sent one of their number in the form of a snake to report on the situation. When he came back, they were much disturbed at his account, and sent another to check. When the second returned his story was different from that of the first. They placed the two snakes opposite each other and asked to reason out why it was that, although they had seen the same things, their stories were different. The truth emerged out of this discussion, and this, say the Warramirri, is a principle of life everywhere:
Review brings doubt but good sense emerges after discussion and so people learn.
The story seemed so apt for a multidisciplinary society such as COSA that the Warramirri elders have most generously allowed us to adopt the two snakes as the official COSA emblem.

Asia Pacific Journal of Clinical Oncology
Members have free online access.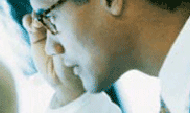 Cancer Forum
Read the latest issue online at: